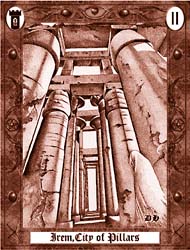 Wow, did it take me this long to set up my point? I'm terribly sorry about that, so I'll get right to it. Like I said, that fight between a dead soldier's family and his Internet email service for access to his email reminded me, indirectly, of a trap question that I asked one of my theology teachers back in high school about understanding phenomena like ghouls, self-resurrecting dead magic users, the use of soul projection to take over a fresh body while dying, the use of biochemical means to reanimate corpses, and the combined occult/biochemical resurrection technology popularly called the Curwen Effect,
from a specifically biblical perspective.
What still amuses me about his weak, inadequate answer is that here it is, 70 to 75 years after journalists dragged this stuff out into the public view where 20th century society had to deal with it, and Christian biblical literalist fundamentalism still has no coherent, cohesive answer to this stuff.
Why
that amuses me so much is that, had it not been for when and how this stuff and other Forbidden Lore became political issues back in the 1920s, 30s, and 40s, Christian fundamentalism wouldn't be the political powerhouse that it is today. Guys like John Stormer, or to pick more contemporary examples like James Dobson and Tim LaHaye, owe their best-selling books, their unusual influence over political figures, their adoring legions, and their very lucrative careers to the public horror and outrage of that time period. People were suddenly confronted by such "hideous" truths as that human beings were not the first intelligent species on this planet, we were (depending on how you count) the fourth or fifth. That we are not currently alone in the universe. That the universe contains sapient beings of unimaginable scale, nature, and godlike power -- and more to the point,
none
of the ones that have been observed to actually exist are benevolent towards human beings. At best, their motives are inscrutable to us just as our ways of thinking are inscrutable to them, and they might squash us without even noticing. At worst, in cases such as Cthulhu and Yog Sothoth, they're overtly hostile to our species and destined to inevitably win. And that previous species on Earth (and perhaps future species, via time travel) left behind a "toxic waste dump" of actual functioning magic spells that are so ill-suited to our species that while they work, they
all
have horrific side effects -- and yet there are humans who accept those monstrous side effects in order to wield that power, if they can escape the law long enough to do so.
75 years later, most educated adults take these things for granted, although sane and healthy people hardly ever think about them. But 75 years ago, when the scientific and historical and astronomical and mathematical and archaeological revelations accumulated to the point where the searing black ocean of knowledge swamped and overflowed our snug little island of ignorance, the American public was clear and unambiguous about what they wanted. They wanted two (contradictory?) things: "Make it go away!" and "Tell me it's not true!" They turned to their congressmen and senators and governors and the President to make it go away, and for the most part that part has been successful; actual documented abusers of Forbidden Lore come only once every few years, making them rarer than spree killers or serial killers. To make it go away, they flocked, gradually at first but more and more over time, out of the mainline Christian denominations that were willing to acknowledge scientific truths, like the Episcopalians and the Lutherans and the Mennonites and Reformed Judaism, and into frankly anti-scientific, stridently conservative faiths like Pentacostalism and Fundamentalism and Orthodox Judaism, and eventually even the Catholics picked a stridently conservative pope, the recently deceased John Paul II. They
wanted
to be told that "the Bible says it, I believe it, and that settles it!" Because then they didn't have to confront the implications of the truth.
Now, it is true that the fundamentalists themselves don't acknowledge this as being where the energy for their movement came from. They talk about thundering evangelists and religious puritans in America in a continuous historical line back through William Jennings Bryant, back through Jonathan Edwards, all the way back to the Puritan Migration of 1620 to 1640 that established the first large-scale white colonies on this continent. But that's just the history of the
idea,
not of the movement, and let's face it, by the end of Prohibition the movement was pretty much dead and discredited. Then public revulsion over Forbidden Lore became news ... and I don't think that it's a coincidence that that's when the American historical trend away from puritanism reversed course and began to move the other direction.
If you want another example, look at Saudi Arabia ... and in particular, why we call it
Saudi
Arabia instead of just Arabia. The House of Saud traces their ancestral rule back hundreds of years. But at their strongest, those historical Saudi sheiks were no big deal, no bigger deal than any other of several hundred tribal sheiks rattling around the Arabian desert. For most of that time, the Arabian peninsula was under unified Islamic rule, yes -- under the Turkish throne of the Ottoman Empire, who quite justly considered Arabia an empty, ignorant, irrelevant chunk of the middle of nowhere that just happened to have two sacred cities in it. But the rise of the House of Saud over all the other Arabian sheiks was tied to the sudden popularity of a previously unpopular sect of Islam, usually called Wahabbism. Prior to the 1930s, pretty much the entire Islamic world was dominated politically by Sufism, a strand of Islam so moderate and tolerant that it could fairly be compared to the Anglican Church, and in fact, that was roughly the role that Sufism played under several consecutive Islamic empires. But then in the years between roughly 1925 and 1930, treasure hunters and archaeologists began digging around the edges of pre-human cities, and long-ago-destroyed cult centers for worship of the Great Old Ones, and turning up the same evidence that universities and archaeologists and geologists and treasure hunters were turning up in places like Antarctica, Australia, Tibet, the South Pacific, and even mountain tops in Vermont and western Massachusetts. And the revelation that evidence of such monstrosity lay beneath the sands of the same sacred land that also held Mecca and Medina aroused the same revulsion, the same demands to make it go away and then tell us it never happened, in Arabia that they did here at home.
Now, again, people tell me that oil wealth would have spurred a puritan backlash in Islam, a return to puritanical values as a control on a suddenly wealthy society. And they tell me that militant puritanical Islam was a historical inevitability once the West, out of guilt over failing to prevent the Holocaust, permitted the Jews to carve an ethnic and theocratic homeland out of the Muslim Ummah.
But both of those things happened after the rise of the House of Saud
and their unification of Saudi Arabia under joint Saudi/Wahabbi rule. No, I think that the only logical way to interpret the historical record is that Wahabbism would have remained an obscure bedouin sect unheard of except among nomadic camel herders in the Arabian desert, and the House of Saud would still be yet another medium-poor family of camel herders in some other Islamic (or even westernized!) kingdom or empire, perhaps ruled from one of the more traditional Islamic capitals like Istanbul or Baghdad or maybe even Cairo, if it hadn't been for the widespread backlash to the shocking revelation of Forbidden Lore.
So there you have it. The
Necronomicon
(and related works, and corroborating scientific evidence to be sure) caused the rise of
both
sides, the fundamentalist "Crusader" side here in America and the fundamentalist "militant Islamist" side in Arabia, of the current "War on Terror."
---
Pant, pant. OK, I'm tired and a little headachy (and my dogs are barking) as much or more from working hard for Tricia's Treasure Chest's performance Friday night as from this, but wow has this gone on longer than I expected to take it. Thanks to everybody who contributed to the followups and replies, you really amused me as much as I hope this amused you. For those of you who came to this (against all odds) only in this last, most recent essay, click on the "cthulhu" topic tag above to see my explanations and prior columns in this role-playing exercise about an alternate universe which came to terms with the Cthulhu mythos when my grandparents were young, the world didn't end because of it, and we just cope; where, in fact, the world isn't
very
much different from ours. This was the part of the role-playing exercise that I was
really
looking forward to, because to me some of the most fun comes when your character argues convincingly, from the facts available to him or her, with all reasonable logic, to a conclusion that we, having the benefit of facts they don't have, know otherwise. You and I both know that fundamentalism both here and in Arabia did
just fine
without the impetus of fear of Cthulhu and the Great Old Ones, revulsion over ghoulish magic, and the need for law enforcement and the military to control access to the most dangerous magics. But the other me, the one who group up in that world,
wouldn't know that.
Discuss.